The UConn Epsilon PBK chapter congratulates UConn student Dylan Champagne on being awarded the 2023 Phi Beta Kappy Key into Public Service award!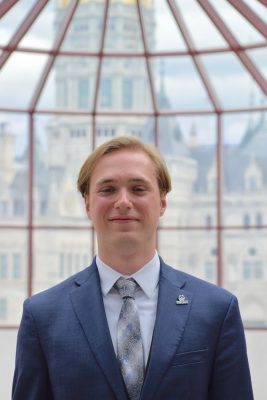 Dylan is is one of 20 students selected as a Key into Public Service Scholar by The Phi Beta Kappa Society. The award recognizes students who have demonstrated interest in working in the public sector and possess a strong academic record in the arts, humanities, mathematics, natural sciences, and social sciences.
Dylan calls Higganum, CT his home.  At UConn, he is majoring in Political Science and Economicse and contributes to The Daily Campus. He is an active member of the CLAS Student Leadership Board, the Journal Publisher for the UConn Law Society, and a "throws" athlete for the UConn Club Track and Field team. He is also a research assistant for UConn's ARMS Center for Gun Injury Prevention, where he is assisting in research on how to reduce gun injury and death in America. Additionally, he is a legislative intern for Representative Hubert Delany, a legislator in the Connecticut General Assembly. When home, Dylan has also had the privilege to work the past 5 years as Wait Staff at Masonicare at Chester Village West. Previously, Dylan has had roles as a research assistant with Professor Bradley Wright where he helped study purpose in life and was a communications intern for the Leukemia and Lymphoma Society for two years. Dylan is a member of the Tri-Alpha Honor Society for first-generation college students, Pi Sigma Alpha, and was elected to Phi Beta Kappa in 2023 (he was inducted April 29, where we celebrated his honor!). After graduation, Dylan intends to earn his J.D. and pursue a career as a lawyer, preferably in a field in which he can help serve the public interest.
Chosen from over 900 applicants attending chapter institutions across the nation, each Key into Public Service scholar will receive a $5,000 undergraduate scholarship and take part in a conference convening in late June to provide them with training, mentoring, and reflection on pathways into active citizenship. Inspired by many Phi Beta Kappa members who have shaped the course of our nation through local, state, and federal service, the award highlights specific pathways for liberal arts and graduates seeking public sector careers. 
PBK national Secretary Frederick M. Lawrence says "The Society applauds the Service Scholars for their intellectual curiosity, community engagement, and dedication to the common good. The well-rounded education these outstanding students are pursuing will prepare them well for a meaningful, productive, and engaged life in public service. We look forward to the contributions each member of the 2023 Key into Public Service Class will make to the nation in the years ahead."
Congratulations, Dylan.  We're very proud of you!